Layers Upon Layers!
It's that time of year when the weather is starting to change, the nights are getting colder and the mornings are getting cozier. With the seasons changing, that means it's time to change out your tees to chunky sweaters but let's not forget to switch up your bedding set!
Time to ditch your light linen sheets for something a little cozier for those seasonally chilly nights. There's nothing like coming home to a perfectly made bed that makes you want to dive right in after a long day. There is no right or wrong way to layer your bed but let us help make it a little easier with our how-to's on how to make the perfect bed.
Let's start the bed with sheets. Whether you love a solid or some fun patterns, Blue Loom is here for all your needs. Blue Loom has a vast assortment of sheets for you to choose from. We've got you covered (literally) from our Bodhi Printed Sheets to our Lane Cooling Sheets.
Next, let's top off your bed and this is where it gets fun! Start with our Vivie Solid Stonewashed Duvet set as your base for your layering pieces.
Complete your bedding set by mixing in a quilt for an added element of print or texture. Blue Loom offers a great selection of quilts to choose from. Go for a trendy take on a classic print with our Raja Reversible Quilt or embrace texture with our Willow Tufted Medallion Quilt.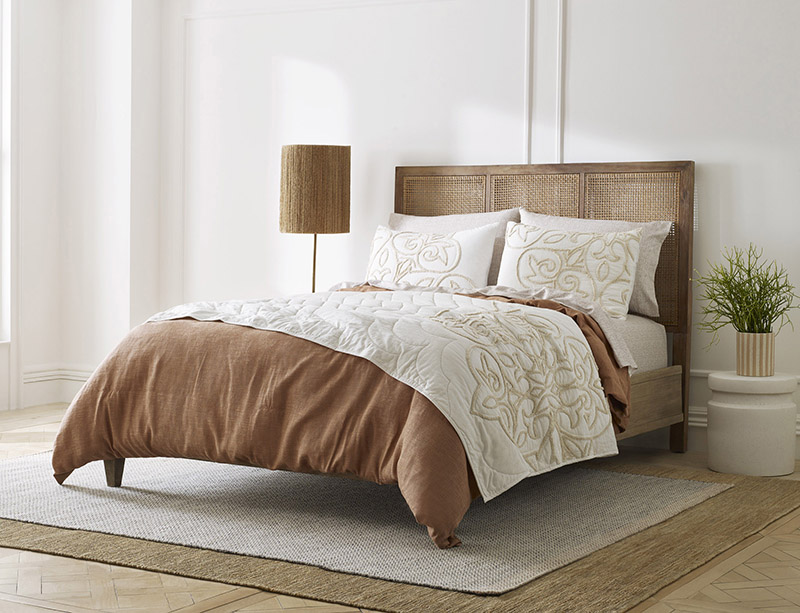 Our throws and pillows will help add some uniqueness to your room with our different textures from tassel throws, tufting, embroidery, and macramés. Playing around with different prints and textures can help make your bedroom as unique as you are.
Make Blue Loom your one stop shop for all your bedding needs this fall. Make decorating fun with Blue Loom!