Our Favorite Fall Trends & Recipes
Hello Fall, you've been missed. As the season changes, so should your décor. Fall means family and friends coming together again so let's get your home ready with the most up to date seasonal trends.
Blue Loom loves to gain inspiration from what's happening around us. With the leaves changing to their autumnal colors, our home's color palettes should follow. From terracotta to deep yellows, oranges and browns, Blue Loom is here for it! We're here to teach you simple color swaps that can help make your home feel just a little bit cozier this season.
Let's start with your kitchen and dining room. Even just the smallest pop of color can transform your space from summer to fall in an instant. By pairing our Everly placemats with our Georgia table runner, you achieve a unique texture combination that will make your dining room table one to remember. Now, let's not forget a tablecloth for those messy eaters! Our Dylan Solid Woven Tablecloth in White is just the perfect touch.
For those messy guests or family members, let's head over to the kitchen. The Harrison drying mat in terracotta will tie in the colors from your dining room while drying your dishes in style. With fall comes apple picking and with apple picking comes apple pie. It's important to make sure that your hands have proper protection from the heat of the oven with our Finn oven mitt. Try it in tan to freshen your kitchen with a natural fall feel.
For those who may have eaten too much pie, we'll venture over to the guest bedrooms. Our Arlo tassel comforter set in tan ties in that neutral fall look we've been aiming for. If you prefer a quilt, we have you covered! Our Phoenix diamond stitch quilt set helps embody all the colors from our collection while providing you comfort.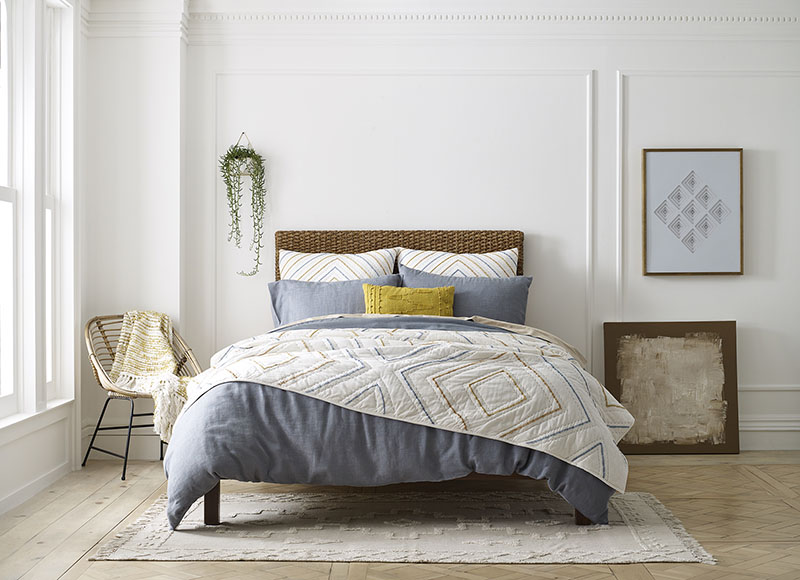 Whether you plan to spruce up one room or all, Blue Loom has all your needs to help make this fall season a little warmer.
See below for our favorite Apple Pie Recipe we hope you enjoy as much as we do!
Ingredients
1/2 cup sugar
1/2 cup packed brown sugar
3 tablespoons all-purpose flour
1 teaspoon ground cinnamon
1/4 teaspoon ground ginger
1/4 teaspoon ground nutmeg
6 to 7 cups thinly sliced peeled tart apples 1 tablespoon lemon juice
Dough for double-crust pie
1 tablespoon butter
1 large egg white
Additional sugar
Preheat oven to 375°. In a small bowl, combine sugars, flour, and spices; set aside. In a large bowl, toss apples with lemon juice. Add sugar mixture; toss to coat.
On a lightly floured surface, roll one half of dough to a 1/8-inch-thick circle. Transfer to a 9-in. pie plate. Trim even with rim. Add filling, dot with butter. Roll remaining dough to a 1/8-inch-thick circle. Place over filling. Trim, seal and flute edge. Cut slits in top. Beat egg white until foamy, brush over crust. Sprinkle with sugar. Cover edge loosely with foil.
Bake 25 minutes. Remove foil; bake until crust is golden brown, and filling is bubbly, 20-25 minutes longer. Cool on a wire rack.