The More the Merrier: Pillows + Throws
A bare sofa, loveseat or bench presents a great opportunity to dress up your home and take it to the next level. You've done the hard work picking out the furniture, so now it's time to get creative with your pillows and throws. Whether you prefer monochromatic or pattern mixing, Blue Loom has you covered. And let us be clear on one thing: you can never have too many pillows.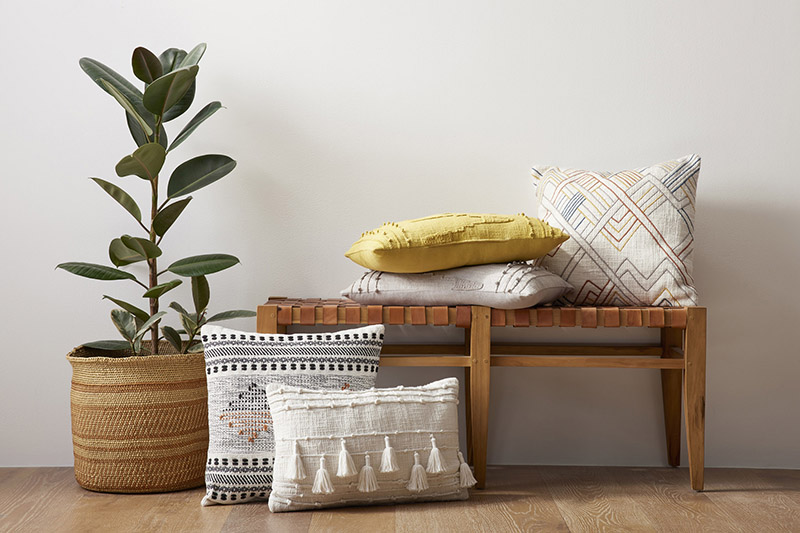 Let's jump right in and start this off with throw pillows. And no, we don't mean start a pillow fight. Or maybe we do? This is where you can really play around with pops of colors, textures, and sizes. Pillows in odd numbers is a rule of thumb and we fully agree. At Blue Loom we encourage three to five depending on whether it's for a sofa or a loveseat and don't forget to show some pillow love to that accent chair in the corner.
While the number of pillows is key, there are other factors that contribute to the perfect pillow combination and those are texture, color, and size. Take our Marlowe stripe pillow with tassels or the Lola embroidered pillow with tassels for example. Full of texture and detail, the Marlowe or Lola can be the focal point while you add in our Wren embroidered solid pillow to balance it out. Throw the Savannah lattice pillow into the mix for varying heights and sizes to show some dimension to your space. This will then complete your home's tasteful pillow assortment.
Now that your pillows are perfected, it's time to get comfy with some throws. We love neutrals more than the next person, but we do also love some color. Our Eloise throw is the perfect way to brighten any couch and it fits seamlessly with the vibe you just created with the pillows listed above. Feel free to get creative with your accent throws by grabbing a woven basket. Baskets are a perfect way to store your throws with easy accessibility for both you and your guests to grab on those extra chilly nights. Channel your inner interior decorator by rolling the throw pillows and storing them in the woven basket. This will elevate your room by giving it a picturesque display while also giving you the storage space you need.
Blue Loom creates endless possibilities to style pillows and throws. Watch your space come to life with these easy tips.